Work with
JACK OX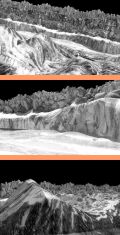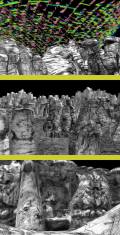 To the left is an on going modeling, texture mapping and programming freelance job. It is a 3D interpretation of a 2D German artist by the name of Jack Ox. Her work is primarily the visualization of music with pictures. I modeled the entire landscape was using 3DS MAX 3, and trueSpace 4. Midi generated musical strips were initially generated using a custom plug-in using trueSpace SDK and C++. The texture maps are quite large, being scanned in from drawings up to 3+ feet in length, all which had to be cut up by hand, rebuild the large maps, then cut up into maps small enough to be rendered in real-time.
Every section of land represents a musical instrument. These instruments are painted in the sky, and are colored and positioned by things such as: instrument, pitch, attack, tambre, etc.
More details on this work in the Technical Section or at
Jack Ox's home page consisting of some large articles about a project I am working on freelance.